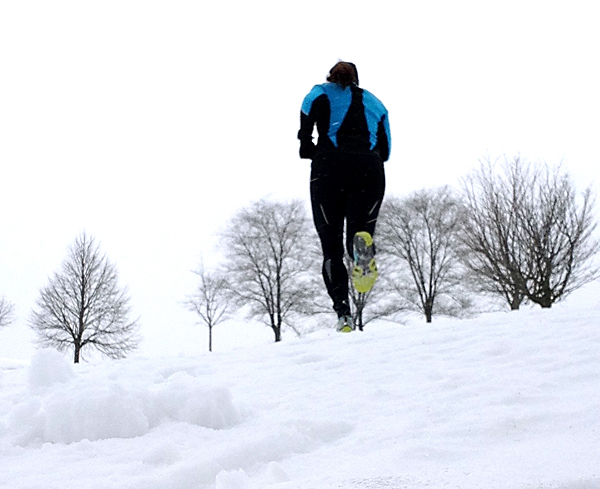 2015 was the first year that I ran outside all year long, winter included.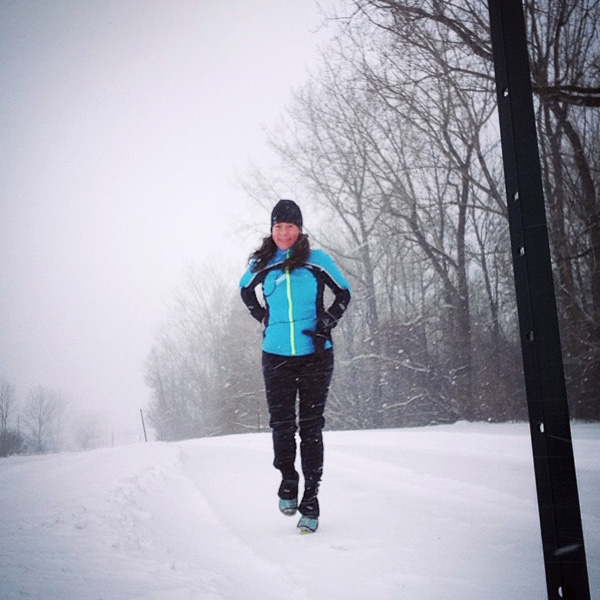 The 2015 winter was a pretty long winter with temperature often below -15 Celsius (5 Fahrenheit), -20 (-4 Fahrenheit) and even -25 (-13 Fahrenheit) here in Montreal, Canada. It was not a windy winter and for the most part, there was not too much snow on the sidewalk (yes I do run on the street especially in winter, since the trail are not very close by my home) but it was a very cold and a very long winter. A winter that would not end…
In 2015, I was running outside because I did not feel like going to the gym anymore for my muscular training. So every time I would think, I should go to the gym today, I never felt like going so I went to run instead as this was more practical and a little bit more fun.
The joy of running came to me gradually by running consistently. But I think it took me around 2 years before I really started to enjoy running.
So when the winter of 2016 was approaching, I was unsure about my ability and discipline to run outside in the cold again.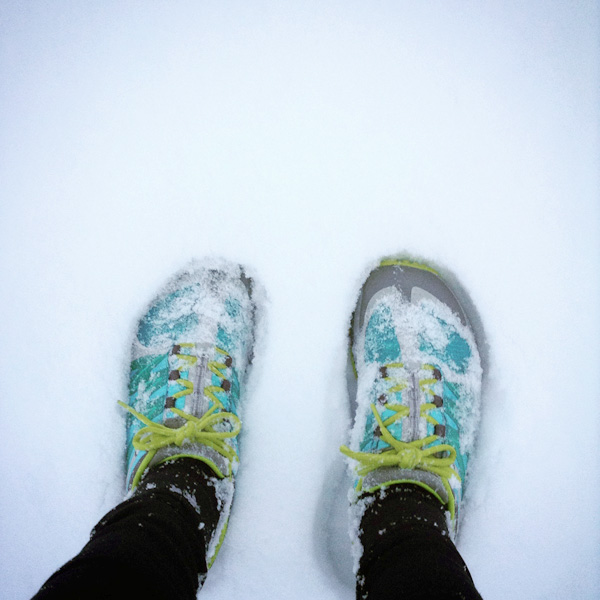 Still, since a year and a half now, 4, 5 and sometimes, 6 times a week, I get dress and I go out to run for a quick 45 minutes.
And now that I have been doing it for quite some time, it brings me lots of joy!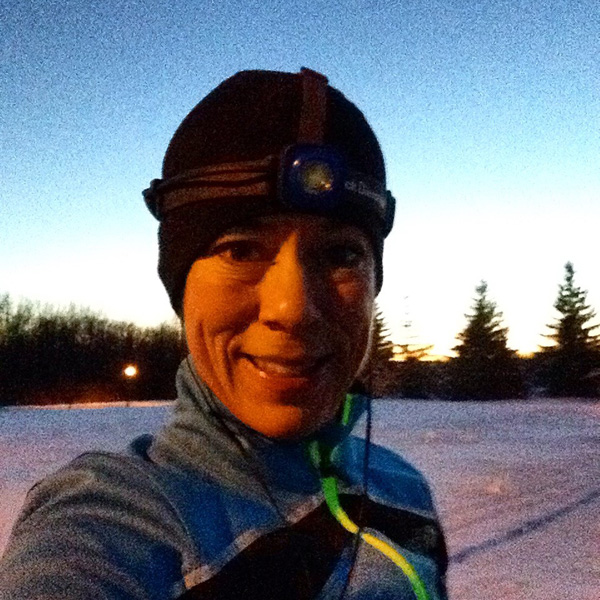 The act of running became easier with time and now I can spend most of my run enjoying it.
It still requires discipline to get out the door to go running during the winter. The first 500 meters are a little harder than the rest of the run. But overall, I really enjoy myself. If one gets dressed properly, it's not that that cold! I love to listen to some music while running, I feel in my own little universe, I enjoy seeing other people running and walking, we salute each others from time to time.
The act of moving as become enjoyable and pushing harder, bringing my heart rate up now feels good.
When I get home, the comfort of a hot shower, a good diner, sometimes a Martini or another kind of drink and a good dessert are also part of those simple pleasures that I enjoy so much more after having spent some energy outside.
Running is often making an ordinary day exceptional.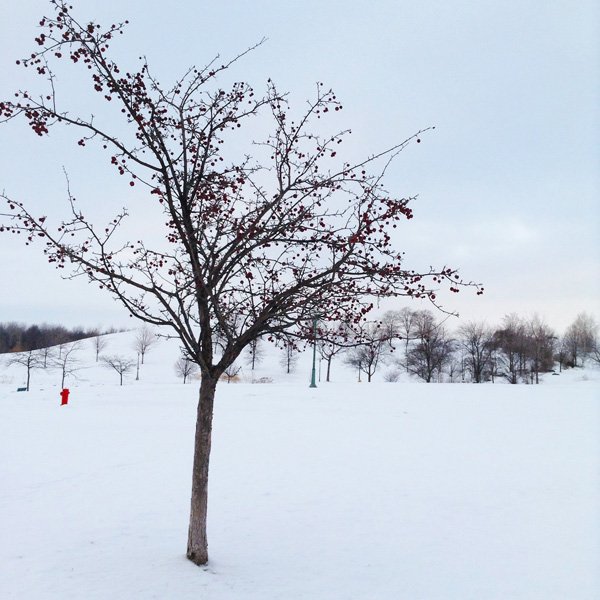 When I started running, I would subscribe to races mostly so that I would stay motivated and disciplined to run regularly. Now, I subscribe to races because I can and because I enjoy it but those races are not the root of my motivation anymore. The joy of being healthy, the joy of moving, the happiness has now become the motivation for my running. So may it rain, snow or even iced, as long as I am not injured, I know now that nothing will keep me from running.
I wish to everyone to experience the joy of running. If you are beginning to run, know that it does take some time, but one day you will experience pure joy in running once in a while and at some point, you will experience it regularly.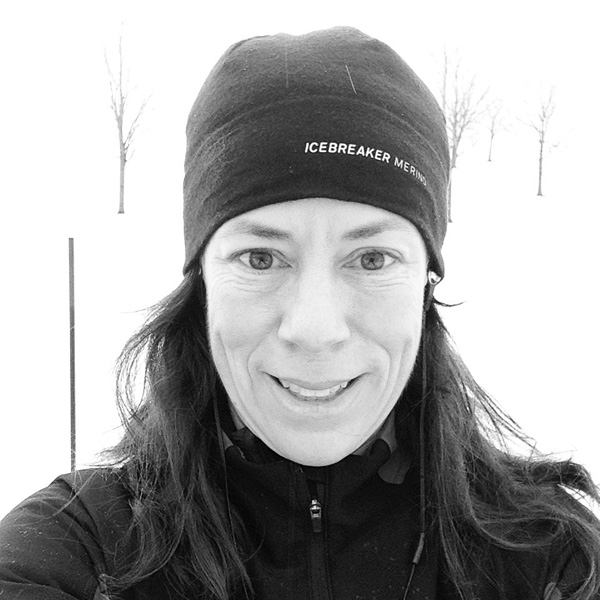 Below are three quotes from the book that touched me most.
Panoramic Awareness, chapter 21, page 4

"Awareness puts us in tune with the elements. This elemental connection is part of being alive. We are too often indoors, unaware of the elements. The elements are not our enemies: we ourselves are made of the elements. When we connect with them, they inspire us and make us stronger, allowing us to communicate with the world in much subtler ways. This connection occurs when we let ourselves mentally relax into reality: we are not just lonely runners pounding out the miles, but living creatures running on the earth. When we acknowledge that, we feel alive. We do not have to fight our environment."
Spontaneity, chapter 29, page 3

"We never know what will happen next. The point of being alive is to be there for it. Spontaneous means 'unplanned and immediate'. You cannot really plan a spontaneous activity; it's a matter of being present in the moment and letting it happen. In the case of running, spontaneity energizes our run." … "even if you do the same run on the same streets at the same time of day with the same people, you run with the mind of spontaneity".
About Spontaneity, I have been doing this same run for over 167 times now and every time I run this route, it is never quite the same.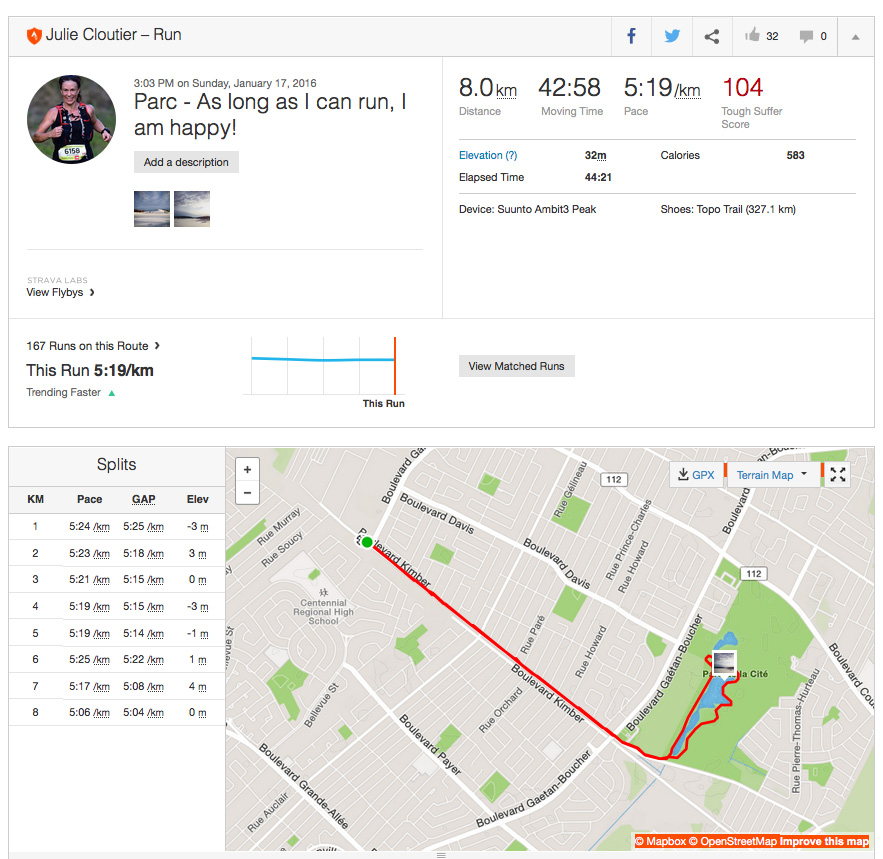 Happiness, chapter 25, page 6

"Through healthy activity, happiness of body and mind become the continuum. We begin to understand that unhappiness is simply the result of wrong engagement. We are engaged in activities that are not leading anywhere, or we have given up to some degree. Thus we keep our discipline. We are discovering that far from making us into drudges, discipline brings joy—because it teaches which activities to cultivate and which to discard."
Here are some more pictures of those joyful winter runs so far.
Below you will find links to some of my favorite songs that I listen to while running.
Mumford & Sons
Babel
Hopeless Wanderer
Broken Crown
Thistle and Weeds
The Tragically Hip
So Hard Done By
At the Hundredth Meridian
Queens of the Stone Age
God is on the Radio
The Black Keys
Next Girl
She's Long Gone
Too Afraid to love you
City and Colour
The Grand Optimist
O'Sister
I wish you to find joy in running or in whichever physical activities that you like doing. We are made to be moving, not to be sitting down all day and night.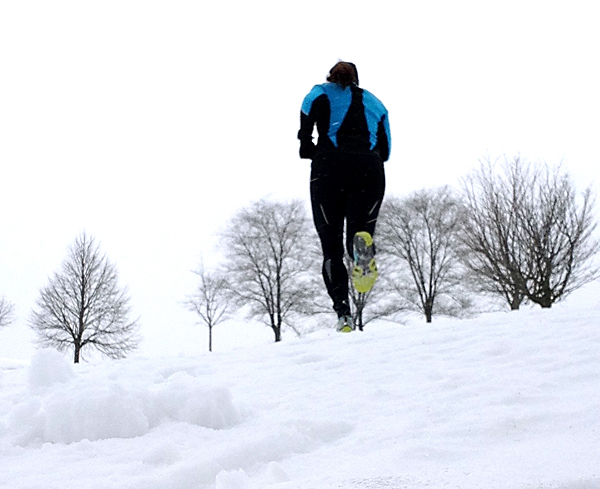 If you wish, you can follow me on Strava.
Hey, like this post? Why not share it with a buddy?
Tweet
#City and Colour #mumford & sons #Queens of the Stone Age #running #The Black Keys #The Tragically Hip #training #winter running
---
---