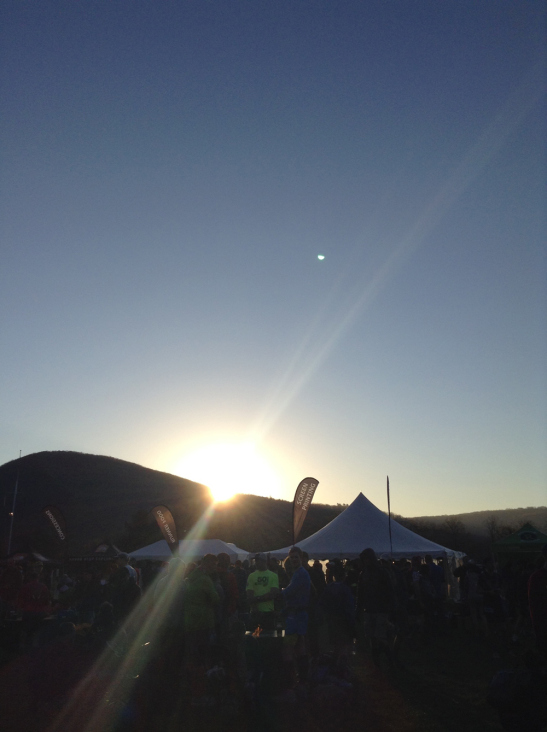 For me, it all started two years ago.
As some already know, I started running at the gym on the treadmill in November 2012. Then in June 2013, almost 2 years ago, I was able to run my first official race  of 5KM (3.1 miles) with a vertical rise of 167 meters. I was describing it in my very first blog article about running here.
It is by chance that I ran my first official race in a trail. I was planning a trip to Quebec and I wanted to sign up for a race. I chose to participate to "The Running Clinic TRAIL Running Event Lac-Beauport" because as I've spent several years of my youth living in that little town it felt a bit like this race took place at home, and then it had this "Trail" word that I found attractive.
The day before the race, I'd gotten well hydrated, I did not drink alcohol and I went to bed early. The morning of the race, I took good care of getting up in advance in order to be able to eat 2 hours before the start. And oh did I ate! I wanted to be quite certain of not running out of energy for this race which was a whole new experience for me. It is funny when I look back…
Then, on that day, I literally fell in love with the sport of trail running.
After 41 minutes of running, I crossed the finish line, euphoric. Then I observed the arrival of the fastest on the 10KM (6.1 miles) course. The winner was Jeff Gosselin, he raced the 10KM in 43:43. I remember I was relieved that he did not cross the finish line below 41 minutes LOL. I said to myself, at least he is not quite twice as fast than I. I couldn't believe the speed of the first runners, then a volunteer said to me that for them, a 10 km was a very small distance, that these guys were running 50KM (31 miles) ultramarathons. What? For me, as for many people, above the 42.2 KM (26.2 miles) marathon distance, there was nothing else, it ended there, outright.
It is therefore at this time that I learned the existence of ultrarunning. Once I got back home, I strated to search on the Internet and then I discovered some bloggers/ultramarathoners like Pat Godin, Frédéric Giguère and Joan Roch among others. Not long after, I said to myself, someday I'll do this, blogging LOL, no I mean run an ultramarathon.
In 2013, I followed up with some 10KM races and in 2014, I did several 25KM races, planning my first 50KM for 2015.
Then, a month ago, less than 2 years after my first 5 KM trail race, I ran my first 50 KM at The North Face Endurance Challenge Series – Bear Mountain New York.
The race
I've had comments from several friends who saw me on the trail, that I had started too fast, but I had so much fun! I had great fun, until the kilometer 18-19 (11-12 miles), then, I doubted a little, I found that I was a bit too tired for the distance I had run so far. I'll never know if my race would have been easier if I had started slower. However, I had confidence, thanks to my diligent trainings all winter that I was not exceeding acceptable limits for me at the beginning of course. I paid a little price, I suppose, the kilometers between 25 and 40 (mile 15 25) were quite hard, but in the end, I had a good time.
It's strange, I was not nervous at all at the starting line, but once the start was given, boom, a shot of adrenaline powered me for the first 10KM. In fact, at the 10th kilometer (6.2 miles) mark I almost had a 'Personal Best' time for the distance. After the first station, I felt the adrenaline go back down.
At kilometer 25 (miles 15.5), I had 3 h 15 on my watch. The idea of completing the race in 6 h 30 crossed my mind. Then, I remember thinking "in general, it is here that my race ends, in general, I do this same chrono and often I feel that I could continue some more". Most probably I never pushed myself to the limit on a 25KM, since I often I ended a race feeling I could have gone for more.
Well I did not know yet how I would be getting my wish today, to finish a race thinking that I gave it all I had.
At some point during the race, at about the mid-point, we crossed the shuttles that brought people on the starting/finishing line in less than 15 minutes, I then had a thought that it would be really easy to sit in and go by bus.
There were so many people on the trails. I thought that on a 50KM I would be alone but it was very crowded for the first 25KM.
Between the second and the third aid station, I followed a man in huaraches. Initially, I was in front, then he passed me by, we talked a bit and he went in front. I told myself that I had no business in front of him as he seem way more use to running 50KM race then I. It is then that I finally decided to started to walk the uphill.
Around the the 20KM (12.4 miles), we climbed steeply, the girl before me that we see on the image below started by telling me that she did this race four times. Then she told me, "I do not know why people are running the climbs at the beginning" (oh yeah that's me I was telling myself). "Either they are in super good shape" she said  or"either they are idiots". Oops, that's me the idiot. Then, she told me, "there is a steep ascent after kilometer 42 (26 miles), keep some of your legs for that.
Whoa, it is only 20KM (12.4 miles) there…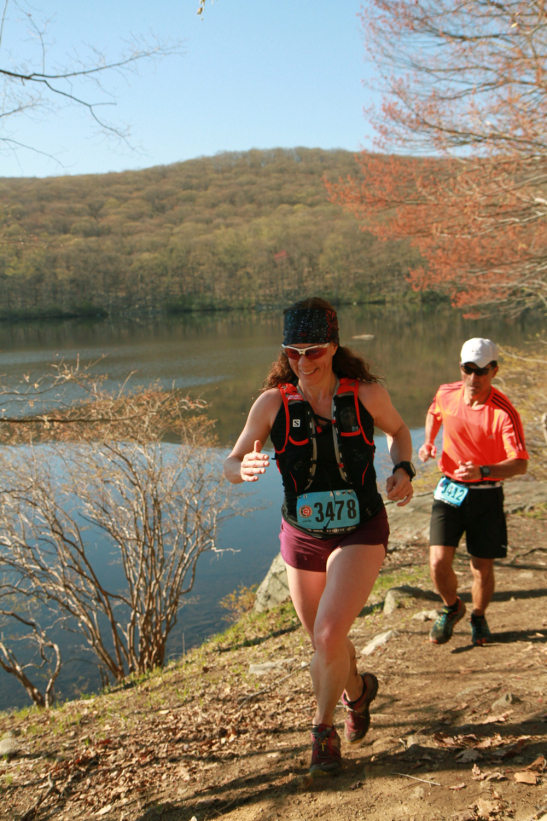 Then a little after the third aid station, around kilometer 25, came a stomach ache. Some kind of urge to urinate. I was running only thinking about the next aid station where there were some chemical toilets. Eventually, I stopped a few minutes, a girl passed by, I started running next to her and asked her if she knew where the next aid station was. She told me no and wondered if I needed anything. I told her that I was looking forward to finding a toilet. Then she took out some whipes from a ziploc bag and gave them to me. Well, I thought, "this is certainly not your first 50KM race". Then we suddenly saw the station. I ran to the toilet.  Huh, this is the first time that this has happened to me, I found it impossible to urinate. I therefore had to leave with my stomach ache. And then I thought, did I properly hydrated the day before, as I had done so well for my first 5 km race? Euh no. Did I drank enough during this first half of the race? I don't think so, either. I therefore decided to drink on a regular basis a little afraid of what was happening to me. I had to run a good 2 hours with the pain and the concern and it was hard to feel in the zone during this time.
Then it went like it came.
A litlle bit of extra information, the Monday morning after the race, I had to go to the clinic because I finally suspected a urinary tract infection. The  doctor made the diagnosis and prescribed antibiotics, but told me to try to treat it first by drinking lots of water and cranberry juice and/or take Cranberry tablets, well Yes, it exists. I asked her whether running in the heat could cause this (I did not  mention the distance, because I didn't want her to send me to the emergency room LOL). She told me that when we dehydrate our urine becomes highly concentrated and this is an ideal environment for bacteria causing urinary tract infections. Later, I talked to a friend who told me that not surprisingly, the chemical toilets are environments very conducive to bacterias. Rolls of toilet paper lying in there aren't so clean. Moral of the story, bring whipes in a ziploc ladies and don't be afraid to pee in the Woods, it's ultimately safer.
During the race, fortunately, the pain went away, but I was still in a negative mental state. I managed to keep smiling but there were several moments were I was in a low point. There were however people who suffered more that I, I even saw one guy vomiting on the trail.
And the famous question "Why I am doing this" came.
When I passed the 42KM (26.2 miles), I told myself that I had more than enough and I was ready for this to end. This is when I thought about my trainings. I ran all winter 5 to 6 times a week the same 8KM (5 miles) path, needless to say I know this route by heart. After the 42nd kilometers, I did not stop anymore to the last aid station and told myself, "let's get this thing over with". Then I thought about my winter path. I thought, here I am at the first stop sign, here I would arrive at the Park, here, I would be crossing the Park, only 4KM to go home, this is easy, I did this many many times. For the final 4KM, I found my motivation with the hope to soon cross the finish line. I had trouble with the last downhill. I think that I had banged my knee somewhere, I had a bruise, and it caused me pain for descents from around the 30th kilometers (18.6 miles). I hate to go down on the brakes, because the descents are usually my advantage, I rest and can swallow kilometers without getting tired and here I had lost this advantage. In the end, if a climb had 0.5% inclination, I told myself this is a climb, you are allowed to walk. I was able to run all the flat portions and I felt a certain pride in doing so. I passed a lot of people at the end that were walking on the flat.
Recovery
I never expected my body to recovers so fast and well. If I had known, I would have stopped whining 🙂 So in my trainings for my next races, I will work the mind in the knowledge that the body is super strong. Our body is stronger than we think.
My Learnings
There are too many to list them all, but I will keep in mind  that I can be stronger mentally, I discovered that my body was not at the end of its capacities after all. Finally, I did not hit the wall, but I got it my race which I did not want to run some more upon finishing. For my next race, I will try to stay more positive mentally in difficult times, knowing that my body is strong and able to continue. Also, I had underestimated the difficulty of the course, not so much so for the positive gain even if he had more altitude gain then what was said on the website. They had announced 1200 meters and I have total of 1700 meters to my altimeter watch. But the difficulty was rather with the type of soil on which we ran. Running on rocks for hours can definitely tired the physical and the mental, but this is trail running. I also note that I should be better hydrated before, during and after the race. In addition, I think that it is important to eat more at the beginning of course, since from the mid-course, I was not hungry and I did not eat much.
Result in numbers
My minimum goal was to finish the race without injury and this is why I ran a lot all winter.
My second goal was to finish in 8:00 hours and my optimistic goal was to finish the race in 7:00 hours.
About 400 meters from the finish, I had not thought at all about time and goals for a good while, I looked at my watch and was very surprised to see 6 h 58 and a few seconds. So I decided to make a sprint to try to reach the end under 7 h. My watch gave me 6 h 59 and 35 seconds at the finish line, but the official time is 7:02, because my watch had been stopped for approximately 500 meters on the course and I had forgotten about it.
Positions:
Standings: 216/469
Women: 39/117
Women aged 40-44: 5/14
Vertical rise: 1 753 metres
Average speed: 8 min 27/KM
Average speed: 7.15 KM/hour
Calories: 4078
Link Strava of my race: https://www.strava.com/activities/297012891
Link Flybys of Strava (very comical if we check other runners from the list before clicking Play): http://labs.strava.com/flyby/viewer/#297012891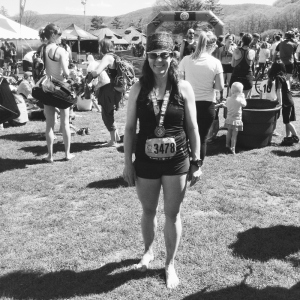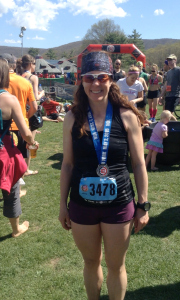 And the question why?
During the race, I thought that I would not run such a distance again, that it was too hard. But after, I do not know why we are like that, the memory of the pain faded away, and I have only one desire, to do this again! I literally floated for 4 days, I still have a hard time to grasp that I have been able to run 50KM. I feel great pride to have managed not only to finish the race, but to have trained for the event with constancy.
Next challenges
I have a few upcoming shorter races including la Grande virée des sentiers de St-Bruno 20 KM cross-country, it'll be fun, because I did it last year, so I will be able to compare my results and see, hopefully, a nice progression. I will be running the 38KM at the Ultimate XC St-Donat at the end of june. I will take part of a 3 days race in mid-august at XC La Vallée called the Trans-Vallée (Friday night 10KM, Saturday 35KM and Sunday 21KM). I will also run the  65KM (40 miles) at the Ultra trail Harricana of Canada in September. For other races, there are several for which I have an interest, among others, the Quebec Mega Trail 25 KM or 50KM, but I am not yet enrolled.
Hey, like this post? Why not share it with a buddy?
Tweet
#running #trailrunning #ultramarathon #ultrarunning
---
---