Saturday morning 6 AM, I wake-up, it's dark, I get dress and have my breakfast. My bag is ready.
My boyfriend wake-up at 6h45, he says, hum you are courageous, I answers, yes indeed…
I don't feel like going anymore, I get in the car, it's a little cold, and I think to myself, why am I doing this? O yeah, it's because I love to run with a group. I am going to the Laurentides, North of Montreal, to run a 10K on a mountain in a trail in Prévost at the Tour du Massif des Falaises. I am going alone, I am in the car it's 7h10 AM and on the 15 highway, the song "Hard road" from Sam Roberts is playing on the radio, and it's then that I suddenly feel very happy to be going to run on a nice sunny Saturday morning. "Life is how you live it through time through time and there's no desert sun that is hard enough to feed your fire…" Pure happiness…
And it's also then that I think about this guy, who bought an airplane ticket to Vancouver and did the 50K trail in Squamish, and I think, he is courageous, not I :-). Naturally these challenges are the one we choose, so obviously, the real Courage with a Capital C is not the one I am talking about here.
Today, I want to test my knee, I am curious to know when the pain will appear. I decided to pay attention to know if the pain starts with the ascent or with the descent and after how many kilometers of running.
In anticipation of Xtrail Asics Orford trail run, I am a bit worried about my left knee. I am going to go with the sensation, I think it is the descents that are hard on my knee. I have a tendency to accelerate in the descent and to take really big steps, I love this sensation of floating above the trail when I go fast. I am reading from ultra-runners that it is best to descent with small steps, so maybe it is my problem.
This event is only an hour from Montreal, comparing to my last event at Défi du Parc de la Mauricie, it is much better. Le Défi du Parc was a trail run but in a 4 wheels kind of trail, the reason for which I was disappointed. For this Tour du Massif des Falaises, it was written on their Website that it was not a 4 wheels kind of trail but a single track trail.
Some runners will do the 25K, others the 50K. The 50K is very difficult with it's positive ascent of more then 2500 meters. The 10K has a 400 meters ascent, in comparison, the Xtrail Asics at Mont Orford will have 618 meters.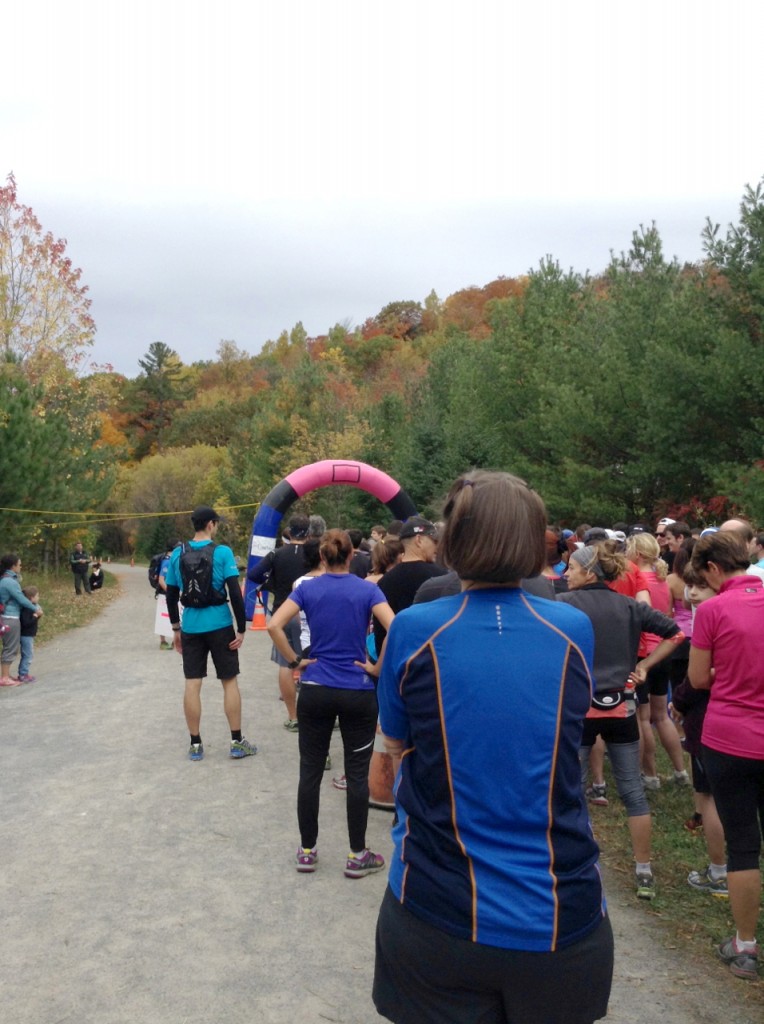 I would have love to do the 25K but it would not be reasonable at this point. I will restrain from doing long distance and wait to have more millage and go progressively. Also, my knee does not agree for the moment.
I got there without knowing anyone, the parking lot was just beside the starting line, it was very easy to access the site, there was no traffic, lots of parking spaces and even a real toilet at the Subway restaurant (do not tell anyone :-)).
At 8h30, I saw the start of the 25 and 50K, I am impress to see runners who are going to run these lengths. In the group was Sophie Limoge, the "présidente d'honneur" of The Tour du Massif des Falaises 2013. She is just back from an event in Europe, where she finished 7th for a 120K which she completed in 20h52. Wow, talking about courage…
At 9h00, the 10K started, good thing I got there early, I thought my start would be at 9h30, but I got confused between the 10K run and the 10K walk starting time. There is a walk of either 10 or 17K, making this event really fun and accessible for those who prefer walking.
So, it's a start at 9h00, I forgot to put on my bib, but I have the timing device on my shoe, I asked a volunteer and he told me there was no problem running without it, as long as I had my timing device.
At the start, there is a big ascent, people are slow, most are walking, it's hard to pass anyone, there are a lot of people, it's also hard to run in the ascent, but at some point, I think, I would like to run a bit at this event… So I pass some people and finally get to run. The race is not easy, 400 meters, does not seem like much but it is nothing near effortless. I try not to spend to much energy in the ascent by moving at a fast walk pace. I feel my knee, how long will it be before I start feeling pain? At the 3rd kilometer, the pain is intense, so much that I think I won't be able to run the 10K. And I talk to myself, telling myself it's only inflammation, nothing alarming, I stay calm and get to think about other things instead.
We ascent and ascent some more and then some more, and a guy says, we are recuperating in the ascent to be stronger later. I am giving it my max with a fast walk pace in the ascent, I think, hum, some people give a different meaning to recuperating. For me it's after the ascent that I start to recuperate, I literally feel like I am floating above the trail from the 4th to the 7th kilometers. What a powerful feeling of total freedom to be running in a trail on a mountain. I am warmed up, and I feel no pain in my knee for those 3 kilometers. And then there are some puddle of mud and water, some people are careful not to get wet and I run directly into it, it feels good, cold on my knees and feet, relieving my knee who had just started again to tell me to stop running. This gives me a second wind for the last 2 kilometers.
During the last 2K, the ascent feels a bit harder. There is a women behind me, I tell her, go ahead if you want to get up front, she says, no, I am good following you. There is a men ahead of me, and slowly, I am loosing him. Finally the women pass me by and I loose her too, unable to accelerate some more. But in the end, I am happy with my result, my time was 1h17. I finished 4th in my age category, 17th on 64 women and 57th on 133 runners.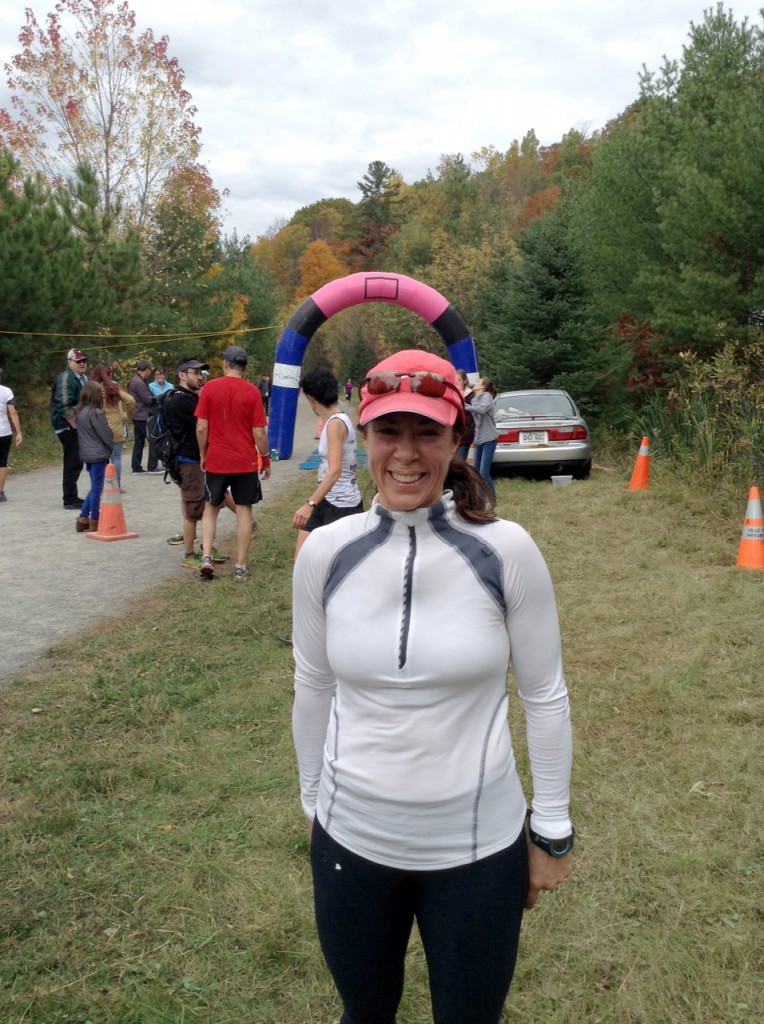 I put ice on my knee after the run. I had no pain right in the end but after a few minutes as soon as it got cold, I felt the pain. I spoke with Sophie Limoge which is a chiropractor at the clinique Action Sport santé Montréal and an ultra-runner. She had no difficulty to diagnose the illio-Tibiale Syndrome, I will have to take care of it if I want to pursue my running activities. She told me about some kind of taping that could help.
After that, I spoke with a men who did the 25K in 2h27. Fast calculation, to my pace, it would take me a minimum 3h20 to complete the 25K, this gives me an idea of his speed. He told me the last kilometers were hard and he would not have done much more. He also told me it was hard to stay concentrated in the end to avoid the rocks and roots. With getting tired, the feet are heavier and it gets harder to avoid the obstacles. I imagine the difficulty to run at night in an ultra running event when you get tired, it must be quite a challenge.
After the run, I met 2 runners who will be doing the Xtrail Asics at Orford. I also spoke with Sebastien Côté director of the Ultra Trail Harricana of Canada in Charlevoix. I was wondering why they did not do this event during the labor day week-end instead of the following week-end. He explained that because the week-end after has less tourists, they get more support for the event and the hotels are cheaper then the previous week-end which is considered high season. I would really love to participate to the event next year. I had met Sebastien at the trail run la clinique du coureur at Lac Beauport Quebec last june, he had asked me if I wanted to participate to the Harricana event. I wanted to then, but I think I will be even more motivated to participate next year in a possibly longer distance. I read good comments about this race on this blog.
Finally this trail run reassured me about Mont Orford. After the run at Le Défi du Parc, I had some worries about my capacity to do Orford. But the Défi du Parc was a different kind of run because of the 4 wheels trail style. My pace was faster there, I ran it at 5min.29 per kilometer. It's not very fast compare to experimented runners who are often easily running at a pace below 5min. per kilometer but for me who is still a new runner, it is fast enough. I had finished this run a bit winded and thought that Orford would be too difficult. But for the Massif des Falaises, I ran at a pace of 7min.47 per kilometer and aside from my knee pain, I would have love to continue running for a few more kilometers. In fact this type of single track trail run is better suited for me because it is more like an interval type of effort. It was a perfect preparation for the Xtrail Mont Orford.
In summary, this was an awesome event, with lots of fun people. I invite runners and walkers to participate. Also, this event is to finance the protection of these trails, another very good reason to participate. I want to thank the organization. If you want to know more about them, you can view their Website and follow them on Facebook.
On this picture, Sophie Limoge with one of the organizers.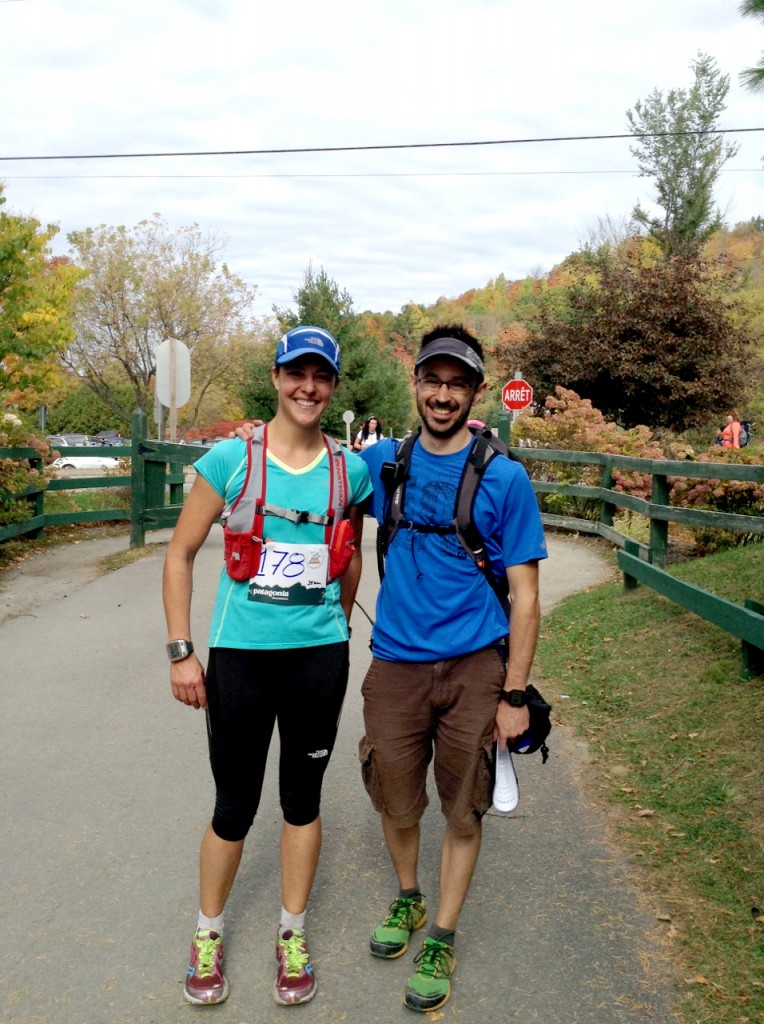 Hey, like this post? Why not share it with a buddy?
Tweet
---
---